London Olympics 2012 is starting from from July 27 to August 12. The whole world is eagerly waiting to see whats surprise are there. The one of the biggest event in Sports arena – The Olympics – will be live streamed on Youtube. The International Olympic Committee (IOC) have announced that it will stream the 2012 London Olympic Games in 64 territories on the IOC's channel on YouTube. Many countries in Asia and Sub-Saharan Africa will get live coverage of this mega-sporting event free of charge on internet through Youtube. All you need is a computer and Internet connection. The IOC offers its fans in these countries over 2,200 hours of high-definition sporting event coverage. It is the first time that Olympics is going to broadcasted on Internet through-out the world on such a mass scale.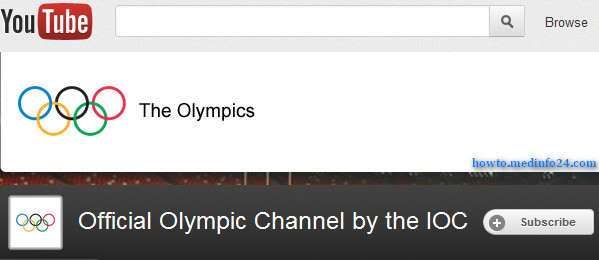 This official YouTube channel is consist of 11 different simultaneous high-definition broadcasts, all with English language commentary  and 10 live feeds from London 2012, running 9 a.m. to 11 p.m. (London time). Also including 24-hour broadcast of the Olympic News Channel, summaries of the latest results, reports on different events, and interviews with athletes ans participants. Historic content from past Olympic Games are also available here. For viewers of other country have to pay.  You can visit  nbcolympics.com
List of the countries:
Asia:  Afghanistan, Bangladesh, Brunei, Bhutan, Cambodia, East Timor, India, Indonesia, Iran, Laos, Malaysia, Maldives, Mauritius, Mongolia, Myanmar, Nepal, Pakistan, Papua New Guinea, Singapore, Sri Lanka, Thailand, Vietnam
Sub-Saharan Africa: Angola, Benin, Botswana, Burkina Faso, Burundi, Cameroon, Cape Verde, Central African Republic, Chad, Comoros, Democratic Republic of Congo, Republic of Congo, Côte d'Ivoire, Equatorial Guinea, Eritrea, Ethiopia, Gabon, Gambia, Ghana, Guinea, Guinea-Bissau, Kenya, Lesotho, Liberia, Madagascar, Malawi, Mali, Mozambique, Namibia, Niger, Nigeria, Rwanda, São Tomé and Príncipe, Senegal, Seychelles, Sierra Leone, Swaziland, Tanzania, Togo, Uganda, Zambia and Zimbabwe.
 Schedule of Olympic Game:
(Click on the image>Right click>Save as image)
Download full schedule (PDF format)  595KB Much better with ticket price,  venue etc
Rights-Holding Broadcasters for the London 2012 Olympic Games: