Snip.it will no longer available for users, siad by the Snip.it team yesterday. Yahoo has confirmed that Snip.it, is a Commonly known website that lets users make collections of links on a topic to share their expertise. Snip.it, a San Francisco-based site that created a web application for clipping news articles and arranging them in a visually compelling Pinterest-like format. Yahoo CEO Marissa Mayer is making this wonderful move. The estimated price may be 10 million but not sure with several million dollars worth of earnouts tied to team retention.
We are thrilled at the opportunity to bring Snip.it's vision to a larger scale at Yahoo!.
Said by the Snip.it team in its website. We also hope so from both of the team. It is exciting what come up next as the result of joining. Snip.it, first launched in October 2011, had attracted an impressive roster of investors including Khosla Ventures, True Ventures, Charles River Ventures, and SV Angel, but it seems that ultimately its service did not get as much standalone traction as may have been hoped.According to Tech-Crunch.
"Our vision has always been to make news more social. And we can't think of a better platform than Yahoo, with half a billion monthly users, to realize this vision," Snip.it CEO Ramy Adeeb told Mashable in an email.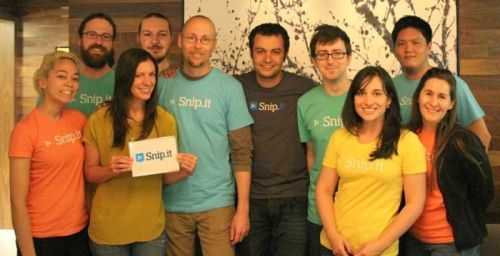 Snip.it will join Yahoo's "media group," company spokesperson Sara Bettencourt Gorman said in an email. Gorman did not disclose purchase price or other details about the deal.
The Snip.it Service already has been shut down.
As of today, we will no longer support snipping. However, we've built a few options for you to download and export all your snips. The download link will be available until February 21, 2013.
To download Your data go to Snip.it hompage. You will see a Link "Download My Data". Click on the link to download your data. It will no longer available after 21st February 2013. So better get hurry.
They have created a Hall of Fame. You will get the Twitter handles if you'd like to continue to stay connected.