Search Engine Optimization is the most important step to get more unique organic visitor from Google obviously along with good content. And more visitor means more money. Blogger is a good platform for blogging. But Blogger templates by default don't come with search engine optimized post title tags. Blogger displays the blog name first then your post title. But it should be reverse. Post title must be in-front then blog name. So we are going to implement the post title infront and the blog name after that.
Improve Blog Post Title For Better SEO In Blogspot:
Step 1: Log in to your blogger dashboard. Go to Template> Edit HTML> Proceed. I would like to suggest you to keep a backup of your present template. Click on the Backup/Restore button at the right upper corner of the template page.
Step 2: You will see your template html code. Search for the below code. It is usually present within the first 10 lines after < head > tag.
<title><data:blog.pageTitle/></title>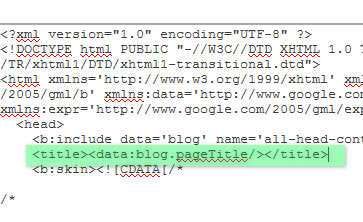 Step 3: Replace it with the following code.
Step 4: You are done ! Now save the template. Get a look at the change in the Title bar.
See the below image after optimization in my Blogspot blog.