EURO 2012 cup is now the topic in air. Everyone is quite excited about it. I have written a post about Easily Add Euro 2012 Fixtures To Your Android Phone or Tablet Calender. If you have a Android device you may want to see it.
So after that i was thinking it would be great if you can receive a SMS notification about the match some hour before in your Mobile phone. This post will show you how to get a sms specific time before starting the match. You will find a lot of fixtures in the internet and you have to check it daily. This will remove the tension and you dont have to keep a piece of paper of Euro 2012 Schedule. So lets begin.
Get Euro 2012 Fixtures By SMS To Your Mobile Through Google Calender:
Step 1: Adding CSV file to Google
You need to follow the basic step of Adding the csv file to your Google calender. For that First Download the csv file to your computer or laptop. Go to Google Calender and import the downloaded csv file in "other calender" options.
Step 2: Setup Mobile to receive sms
Now go to settings option at the right corner of the page. Click on the Mobile setup and fill up the form with your Country and Phone number. Google will send you a instant sms carrying a special verification code. Write down the code there. And at last click on finish setup.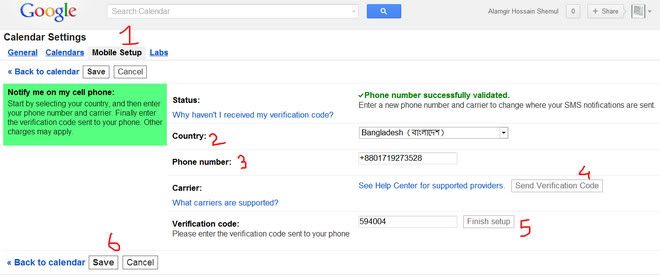 Step 3: Setup the Event Reminders to get sms before specific time
Click on the calenders at the left side of the Mobile setup options. Then find the "Notifications". When you click on the Notifications you will find the Options Event reminders and Choose how you would like to be notified. Select the Remind me via SMS and fix the before each event. You can also add another reminder. At the end dont forget to Save it.
Now You are Done. Before every match you will get a sms containing that days match.
See the Fixtures below. Save this page if you need it later.
Get The EURO 2012 Schedule in Bangladeshi Time
EURO 2012
DATES
MATCH
TIME
STADIUM
Group
TEAM 1
RESULT
TEAM 2
FRIDAY,
JUNE 8
1
19:00
National Stadium, Warsaw
A
Poland
—
Greece
2
21:45
City Stadium, Wrocław
Russia
—
Czech Rep
SATURDAY,
JUNE 9
3
19:00
Metalist Stadium, Kharkiv
B
Netherlands
—
Denmark
4
21:45
Lviv New Stadium, Lviv
Germany
—
Portugal
SUNDAY,
JUNE 10
5
19:00
PGE Arena Gdańsk, Gdańsk
C
Spain
—
Italy
6
21:45
City Stadium, Poznań
Rep Ireland
—
Croatia
MONDAY,
JUNE 11
7
19:00
Donbass Arena, Donetsk
D
France
—
England
8
21:45
Olimpiysky National Sports Complex,Kyiv
Ukraine
—
Sweden
TUESDAY,
JUNE 12
9
19:00
City Stadium, Wrocław
A
Greece
—
Czech Rep
10
21:45
National Stadium, Warsaw
Poland
—
Russia
WEDNESDAY,
JUNE 13
11
19:00
Lviv New Stadium, Lviv
B
Denmark
—
Portugal
12
21:45
Metalist Stadium, Kharkiv
Netherlands
—
Germany
THURSDAY,
JUNE 14
13
19:00
City Stadium, Poznań
C
Italy
—
Croatia
14
21:45
PGE Arena Gdańsk, Gdańsk
Spain
—
Rep. Ireland
FRIDAY,
JUNE 15
15
19:00
Olimpiysky National Sports Complex,Kyiv
D
Sweden
—
England
16
21:45
Donbass Arena, Donetsk
Ukraine
—
France
SATURDAY,
JUNE 16
17
21:45
City Stadium, Wrocław
A
Czech Rep
—
Poland
18
21:45
National Stadium, Warsaw
Greece
—
Russia
SUNDAY,
JUNE 17
19
21:45
Metalist Stadium, Kharkiv
B
Portugal
—
Netherlands
20
21:45
Lviv New Stadium, Lviv
Denmark
—
Germany
MONDAY,
JUNE 18
21
21:45
PGE Arena Gdańsk, Gdańsk
C
Croatia
—
Spain
22
21:45
City Stadium, Poznań
Italy
—
Rep Ireland
TUESDAY,
JUNE 19
23
21:45
Donbass Arena, Donetsk
D
England
—
Ukraine
24
21:45
Olimpiysky National Sports Complex,Kyiv
Sweden
—
France
WEDNESDAY,
JUNE 20
No games will be held
THURSDAY,
JUNE 21
25
21:45
National Stadium, Warsaw
Euro 2012
Quarter
finals
1A
—
2B
FRIDAY,
JUNE 22
26
21:45
PGE Arena Gdańsk, Gdańsk
1B
—
2A
SATURDAY,
JUNE 23
27
21:45
Donbass Arena, Donetsk
1C
—
2D
SUNDAY,
JUNE 24
28
21:45
Olimpiysky National Sports Complex,Kyiv
1D
—
2C
MONDAY,
JUNE 25
No games will be held
TUESDAY,
JUNE 26
WEDNESDAY,
JUNE 27
29
21:45
Donbass Arena, Donetsk
Euro 2012
Semi
finals
1A/2B
—
1C/2D
THURSDAY,
JUNE 28
30
21:45
National Stadium, Warsaw
1B/2A
—
1D/2C
FRIDAY,
JUNE 29
No games will be held
SATURDAY,
JUNE 30
SUNDAY,
JULY 1
31
21:45
Olimpiysky National Sports Complex,Kyiv
Euro 2012
Final
Winner of #29
—
Winner of #30
I have found this website great for Fixture http://www.euro2012calendar.com/