Password protection is one of the most important concern for everyone. No one wants to get hacked and lose their privacy. Protection of Mail is the most important thing that you must think. Yahoo is one of the most widely used mail client. You need to protect its password very carefully. I have previously written a post how to Check Your Password And How To Make a Strong Password. See that if you need. Today I am going to introduce you the 2 step verification for Yahoo ! Two step verification means when you sign in with an unrecognized device or computer, you will have to answer a security question or enter a verification code that we'll send to your mobile phone or non-Yahoo! alternate email address on file. It helps prevent unauthorized access to your account through a stolen password. Any sign-in attempt Yahoo! deems suspicious will require a second verification. It will further protect your Yahoo account.
Treat your password like your toothbrush. Don't let anybody else use it, and get a new one every month. -Clifford Stoll
Follow These Steps to Activate Two Step Verification:
1. Login to your Yahoo mail account and go to the following page: https://edit.yahoo.com/commchannel/sec_chal_manage
2. Click on the Check this box to turn on the second sign-in verification. You will get the options now. See the image below
3. Select your country. It is not available for all country. Enter your phone Number. You will a SMS notification about your code. Enter the code in the Box. You can also use the mobile number you previously added to your account for verification.
(*Note: Enter your own mobile number because this will be used to verify your account and you cannot login until you verify your account using the verification code.)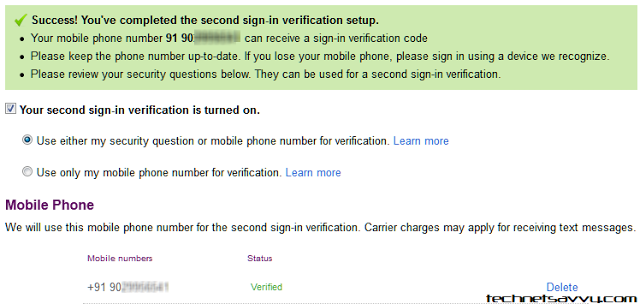 That's all, you successfully enabled Two step verification in your Yahoo Mail.