Contact form is one of the most essential element for a popular website. Your visitors may need to contact with you for various purposes. If you don't have a contact page they will force to contact with you in comment section of a post which is insecure for them and also ugly for your blogpost. So it will be wise to give them a chance to make a easy contact with less effort. You will get a contact page in every successful blogger. It also indicates that you are thinking about your visitors. They feel "it is a safe blog because it has a contact page". And its true. Also you need to make reply.
You can easily add a contact page im your wordpress blog by adding a plugin. But if dont want to add more plugins in your  wordpress website, you can simply follow the below procedure to add simple contact form. i am going to introduce with you foxyform.com. There are also anotheer options like emailmeform.com but here you need to register and also a limited number of contact form.
For Blogger blog as there are no plugin options to add contact form page you will need to manually add this.
See the Demo of a contact page: Contact page demo
Add Simple Free Contact Form For Website
Steps 1: To get a contact form visit to http://www.foxyform.com/. This contact form for your website is integrated with anti-spam protection.  Fill in the contact form Settings, Advanced settings and enter the Email, in which e-mail address shall the form data to be sent. Then click on create.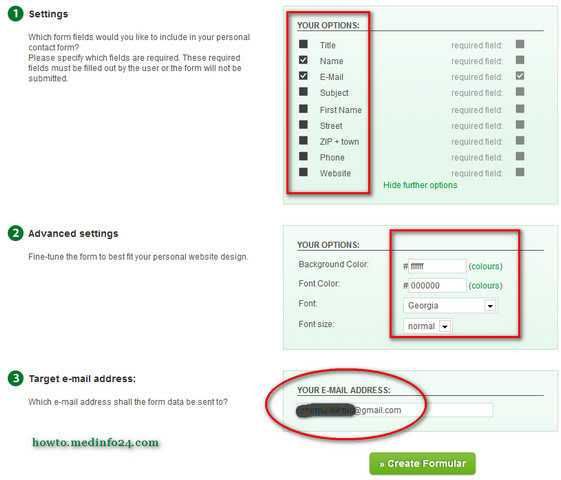 Step 2: You will get the Html code for the form. Copy it and dont make a change. There will be a small link on the contact page of foxyform. Give them the credit !
Step 3:
For blogger blog: Log in to Dashboard> Pages> New Page> Click on HTML> Paste the Code> Save.

For WordPress: Dashboard> Pages> Add New> Click on HTML> Paste the code> Save
Give a title of the page. After pasting the code click on Click on compose and see the change. You can add any thing here.
Also Read: