Sitemap is very much essential for a website to be crawled effectively. Every site must have a sitemap. This website is done on WordPress and there are many plugin to create and submit sitemap for WordPress. But the problem is with the blogger blog. The XML Sitemap file is like a directory of all web pages. Sitemap is must for Google search engine, if site map submitted then it is easy to read your website pages by search engine, new pages cached power increased. A sitemap could be used to improve the search engine coverage of a website. So now if you understand the importance of sitemap, I would like to request you to follow this post. To know more about sitemap visit Google webmaster
Create a Complete Sitemap for your Blogger Blog:
1. Go to sitemap generator http://ctrlq.org/blogger/.
2. Write the full address of your blog.
3. Click on Create Sitemap.
4. Copy the text.
5. Open Blogger dashboard > Settings > Search Preferences, the enable Custom robots.txt
6. Paste the clipboard text here and save your changes.

Verification of Sitemap:
1. Go to Google Webmaster Tools (If you dont have a webmaster account, create one now).
2. Select your site. Then Navigate to Optimization> Sitemap.
3. Click on At the right upper corner Add/Test Sitemap.
4. Type http://your-sitename/atom.xml
5. Click on Test Sitemap, A test result will appear. See the result.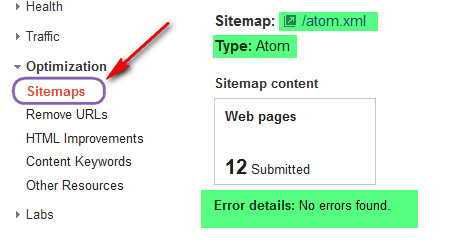 6. Your sitemap has submitted, waiting for indexing.